Welcome to Danville River District Lofts: Featuring Pemberton Lofts & Continental Lofts
Continental Lofts Coming Summer 2015!
Danville River District Lofts represents Danville's Newest and Most Innovative Living Experience located in the heart of Danville's River District. The marriage of historic details and modern amenities makes these one- and two-bedroom units appealing to those with discerning taste. Quality is evident in the "extras" that have been included in the renovation. The reuse of these beautiful historic buildings that is now Pemberton Lofts and Continental Lofts serves as a perfect nod to this former tobacco and textile City's bright future.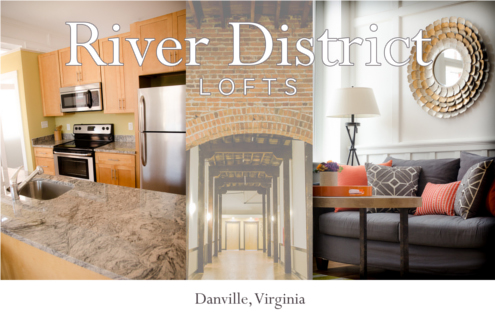 Amenities
All River District Lofts residents enjoy the following amenities and conveniences:
All Inclusive Rent - Utilities, Premium Cable/Internet and Trash Removal ($250 value)
Open Floor Plans
Original Hardwood Floors
State-of-the-Art Entry/Security System
Built in Audio Systems w/ Blue Tooth Connectivity
Ample Parking
Granite Counter Tops
42" Upper Kitchen Cabinets
In-unit Laundry Center
Abundant Windows
Stainless Steel Appliances
Pet Friendly
Outdoor Patios w/ Charcoal Grills
Enclosed, Covered Parking - Continental Specific
Large, Central Gathering Hall - Pemberton Specific
Full-Service Fitness Room & Exercise Studio - Pemberton Specific